Back to School - Every kid needs an iPad Stand for their iPad
$10 off any order of $50 or more
Use coupon code
back2014
Offer expires 08-29-2014
Product Release - iPad POS Stand - EnCloz
The iPad POS Stand EnCloz is released today. EnCloz Stand is a commercial grade POS iPad stand that pivots and rotates the iPad around with it's exclusive stainless steel ball socket technology. This clean line approach creates a great look stand that allows smooth orientation positioning and flipping to the customer for a signature. It may also be used for many other commercial or displaying purposes like restaurants, trade shows or museums.
Every aspect of business needs to look great, and the iPad POS EnCloz Stand makes no exceptions. Using a solid steel base that is not just a square piece cut of thin sheet metal, but a thick 3/16" steel, elegantly cut with a laser, followed by forming into a large beautiful arc shape, and then oven baked with a durable finish. While leading the industry with a solid stainless steel ball for endless pivoting motion and rotation, you can use the iPad POS stand at your ideal position, yet instantly change to another. The EnCloz Stand is available for iPad, iPad Air, or iPad mini and works with all card readers while allowing you piece of mind that your iPad is protected. Included in the design is full access to all controls and ports including the lightning and audio ports. The base can also be screwed or bolted down, though not required for normal use due to the design of nearly 4 pounds and a low center of gravity. Standard option units ship immediately, some custom options may add only a few days.
Available today at thoughtout.biz for $159.99
Quality Product Conditions at a Lower Price
What sets us apart from all iPhone and iPad stand, mount and holder creators is the fact that we design, make, assemble, and sell directly to you, all from under one roof in Monroe, Connecticut, USA. Not only does this allow us to produce jobs in the USA, it also allows us to achieve the highest quality product at a moderate cost.
We are now implementing another aspect to our business, bringing the same great products at a lower price point to you. With all of our processes under one roof, we can bring products that do not meet the initial "New" condition through another inspection, and fulfill them as "Recondition", "Used Very Good" or " Used Good" condition. All are packaged within the same packaging (including instructions) as a "New" condition product is packaged. This allows you to purchase many of our products from 10% to 50% off while keeping the same 1 or 2 year warranty, depending on the product.
Starting today, any product with other "conditions" available for inventory will be posted on the same product page for purchase at a reduced price.
Here are some direct links that have some for starters:
iPhone Stand PED4 GRAND
New Product Release:
Thought Out Company is pleased to announce the next iPhone stand that will, again set the standard for all, the GRAND iPhone stand. The PED4 GRAND iPhone stand has our traditional large curved back stand made from heavy steel, with a stainless steel ball pivot point for endless user positioning. Thanks to the holder design, the PED4 GRAND iPhone stand will accept your iPhone with or without the case the user has covering their iPhone.

Some key features is the shear quality and weight, coming in at a heavy 9 ounces and all CNC machined steel and plastics, the user will love this steadfast weighted stand on their desk, kitchen counter or table. Included in this design (as with all PED4 products) is the friction screw adjustable ball pivot, this will allow the user the ability to tighten the movement should they feel it has loosened up over time (we don't think they will ever need it, but we want them to have it just in case they are weary).

Many high resolution photos available on the webpage http://www.thoughtout.biz/iphone-stand-ped4-grand/

Available today only $44.99 - Made in the USA
FEATURES:
3 slide adjusting fingers (vinyl protected for the iPhone)
2 slide adjusting guides (keeps iPhone straight)
9/16" solid stainless steel ball for pivoting action (Friction screw adjustable)
Base - Over ½ lb. Grade A press formed steel (+230 grams)
Color: Black, hot baked textured
Dome polyurethane bumper feet for non slip footing
HOLDER COMPATIBILITY:
iPhone 5S, 5C, 5 with or without a case, skin, bumper or protective cover.
iPod touch 5g with or without a case, skin, bumper or protective cover.
Works with large cases like OtterBox Defender, Commuter, and many more - see dimensions below.
* iPhone 4S, 4, 3GS, 3G and Original, iPod touch 4g, 3g, 2g and 1g *if in case that is within the dimensions below
Other devices that fit the dimension below

Width: From 2.15" to 2.75"
Height: From 4.65" to 5.3"
Depth: Slide finger is .6" tall (The depth of your case can be deeper than this dimension)
iPad Air, iPad mini iPad, iPhone, iPod Tripod Mount or Adapter
You want to create steady smooth landscape video and take crystal clear portrait photos with your iPhone, iPad, iPad Air or iPad mini? We have a tripod mount or tripod adapter solution for all those devices, our PED4 working series tripod mounts. These tripod mounts have a solid stainless shaft and ball socket for elevated height and smooth pivoting, roll, and turning action. Use your case or skin without any problems (no need to take it off) thanks to the flexible fingers for instantly inserting and removal. The tripod mounts all feature a ball socket friction screw adjustment, just incase the individually made in the USA products should need a little tightening in the future, but we doubt it.
4 New USA iPad Air & iPad mini Stands & Tripod Mount
The Entire Product Family, Now Complete for iPad Air
January 23, 2014
Today we announce the release of the iPad Air version of the full pivoting PED4 Planet stand, this now completes the full line in this great product family. Sharing the same great features, yet having larger and more substantial materials, the PED4 Planet IPA10 comes to the family today. With characteristics of the iPad mini stand, this new iPad Air stand has a thicker and wider base. A larger supported 5/16" diameter and taller 6" stainless steel ball shaft to accommodate the iPad Air. The iPad Air holder itself follows the same form and function from the PED4 Planet series, giving the user the ability to easily place a bare, cased, or skinned iPad Air into the holder. And there is ONE MORE THING… it can be easily disassembled and used as a tripod mount on your tripod!
4 New USA Made iPad Air & iPad mini Stands & Tripod Mount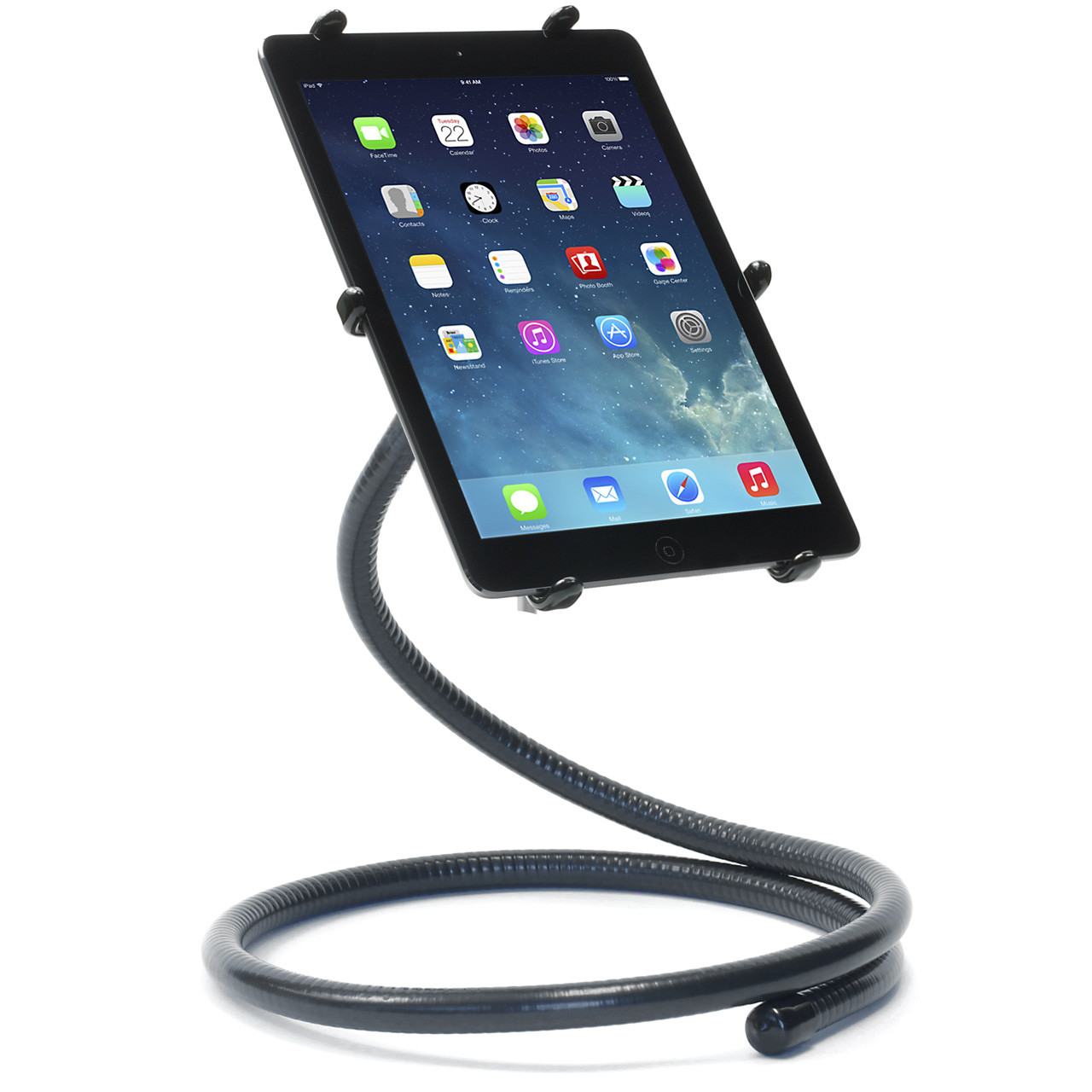 Gooseneck & Pivoting
PED4 Coil IPA10
$94.99

Pivoting & Tripod Mount
PED4 Planet IPA10
$84.99
PED4 IPA10
$54.99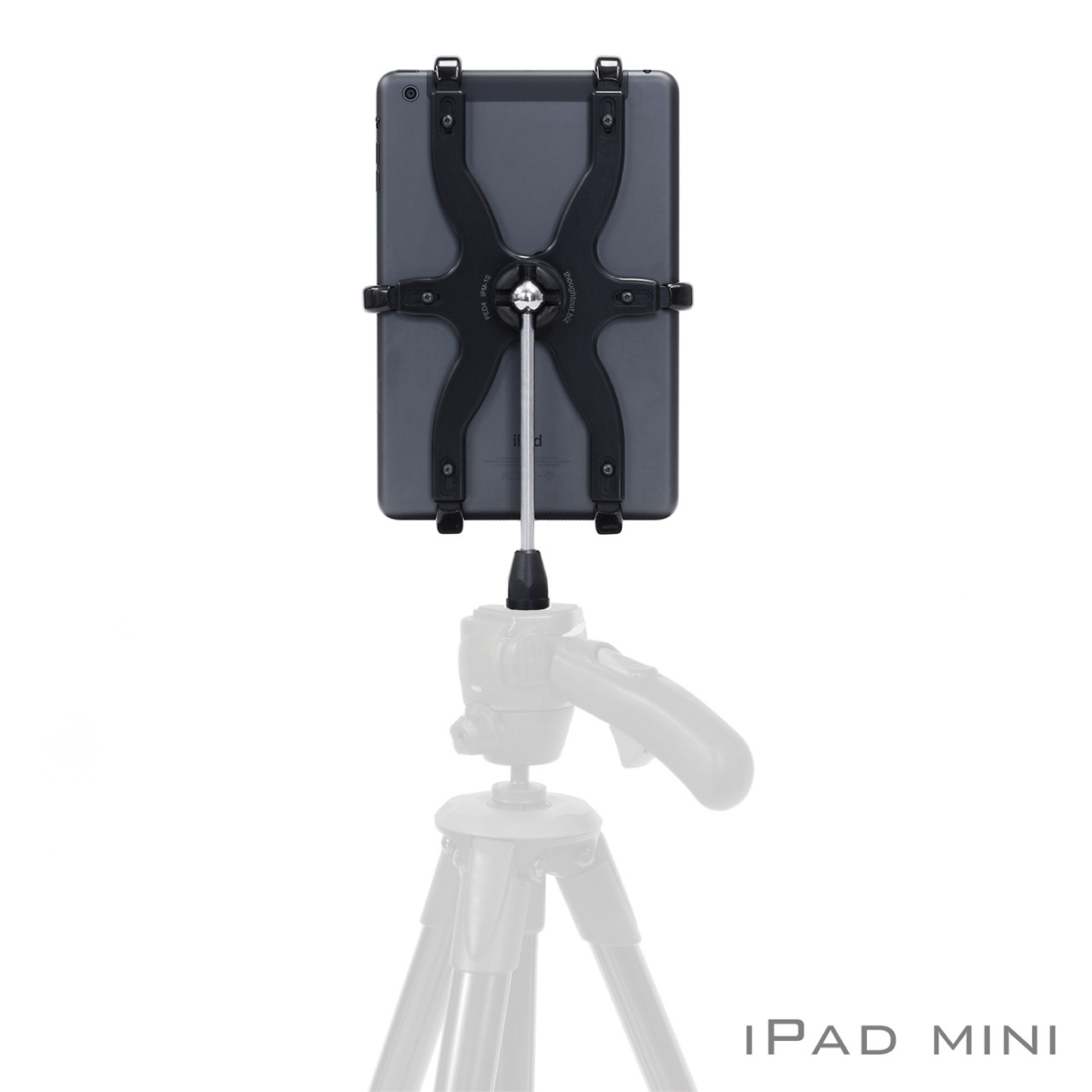 PED4 IPM10
$44.99
Product Release - PED4 EnCloz - iPad POS Stand Enclosure
THOUGHT OUT COMPANY Announces PED4 EnCloz - iPad POS Enclosure, Mount & Stand
October 1, 2013 - Thought Out Company announces today, another first in the industry with dual pivot points, the PED4 EnCloz. This POS display enclosure for the iPad is the first to include not one, but two steel ball pivot joints that allow articulating motion to find your perfect position from cashier to customer, or for extra ordinary display purposes of the iPad. While great for point of sale, the enclosure is also perfect for general display purposes like museums, trade shows, and other events.
Starting with PED4 EnCloz IP20 base model, having basic tamper resistant security and features that allow protected access to all control and ports, custom versions of the enclosure are available such as access for any credit card reader like iDynamo, Square, PayPal, etc.
For the ease of setup and installation, existing optional mounting hardware are also available that include the Bracket 90 and AdPad 300. The Bracket 90 is a 90˚ solid aluminum custom bracket, and the AdPad 300 is a 3" adhesive mount that produces well more than secure holding power.
Made in USA
Available today starting at $199.99 from http://www.thoughtout.biz/ped4-encloz-ip20-ipad-pos-stand/
News - Vesa Mount Pivoting Stand
Our new VESA mount pivoting stand is now available. The Stabile PRO VESA is a close relative to the pivoting Stabile PRO iPad stand, sharing the same solid steel artistic and sleek base giving any VESA 75mm or 100mm device a sure stable footing. Included in the design is the 3/4" solid stainless steel ball that provides a full 90˚on two axis along with a continuous rotation to the 75mm or 100mm VESA mount plate.
For more information see the product webpage http://www.thoughtout.biz/vesa-mount-stand-stabile-pro-vesa/
Product Release - PED4 Mount CH50 iPhone Mount
THOUGHT OUT COMPANY Announces PED4 Mount CH50 iPhone mount

iPhone Custom Mount
Thought Out Company announces today, a major change to consumers expectations of what an iPhone mount should be. Using the first asymmetrical double balled stainless steel curved shaft the PED4 Mount CH50 creates a natural feel and flow with a mounted iPhone. Please see the video on the webpage showing the mount in use.

The superior quality of this product will be first noticed with the unique design, all machined parts and the vast array of mounting options. Mounting options that include but are not limited to, car, boat, wall, refrigerator, dashboard, windshield, helm, desktop, virtually any where.

Included in the basic package is the 3 lobed mount which starts the rigidity of solid mounting.

PED4 Mount CH50 available now for $49.99 from our website at: thoughtout.biz/ped4-mount-ch50-iphone-mount/





Also available today, two additional mounting options, AdPad300 and Bracket 90. The 3 lobed mount is attached to the AdPad 300, a large 3" diameter mounting base surface that generates 80 pounds of holding power. The Bracket 90 is available for those who need an extra 90 degrees of mounting with their installation. Both of these options are available now for $14.99

thoughtout.biz/adpad-300-kit

thoughtout.biz/bracket-90-90-degree-aluminum-bracket/

Made in the USA

iPad Stand Comparison White Paper Report - Stability Factor
We compared our two best steel weighted iPad stands, the Stabile 2.0, and the Stabile PRO for you to make a decision model which works best for you.
The quality of our iPad stands is the most notable feature that is recognized in person, yet we need to convey more information to the consumer to help make this slightly larger, yet longer term investment in an iPad stand. Our iPad stands that will most likely out live any current iPad, and most likely work with the next iPad and more.
The Stability Factor report shows how we set ourselves apart from the rest of the iPad manufacturers with the best iPad stand, wether you want a fixed iPad stand or full pivoting iPad stand.
Cilck to see report