iPad mini Tripod Mount

Pivoting
PED4 IPM10
The PED4 IPM10 pivoting tripod mount is adjustable and very easy to use with or without a case or skin. The holder and pivoting ball shaft can be mounted to any tripod and allow immediate landscape to portrait indexing, and anywhere in between. These premium features make this, the best iPad mini tripod mount for you.
Pivot
Roll, spin, turn, rotate, pitch, yaw....
Whatever you call it, the PED4 IPM10 iPad mini tripod mount can be positioned to it. Using the solid 5/8" diameter stainless steel ball and socket technology you will feel the smooth pivoting freedom to any position you desire. (Friction screw adjustable)
Mount to your tripod
Shoot like a pro with photography, self-portraits and videography!
The PED4 IPM10 iPad mini tripod mount holder and pivoting ball shaft can be mounted to any tripod for steady smooth video and photography shooting. Using the industry standard 1/4"-20 female thread, you simply attach it to any tripod and get instant portrait to landscape use by pivoting with our exclusive >180˚ ball socket trademark design. (Friction screw adjustable)
Case or Bare
Engineered to be used daily
The PED4 IPM10 iPad mini tripod mount has user configurable sliding fingers that are also slightly flexible to create a pre-load to hold the iPad mini. This flexibility allows the stand to be used efficiently, while securely holding the iPad mini as your hand would. Once the holder is configured to your desired fit, there are no special procedures needed, the iPad mini installation and removal is instantaneous. All of the controls, ports and camera are fully accessible at all times.
Details
Excellence in design



The impressive characteristic design features of the PED4 IPM10 will have you astonished. The attention to detailed parts will make you realize why this is the best tripod mount for your iPad mini.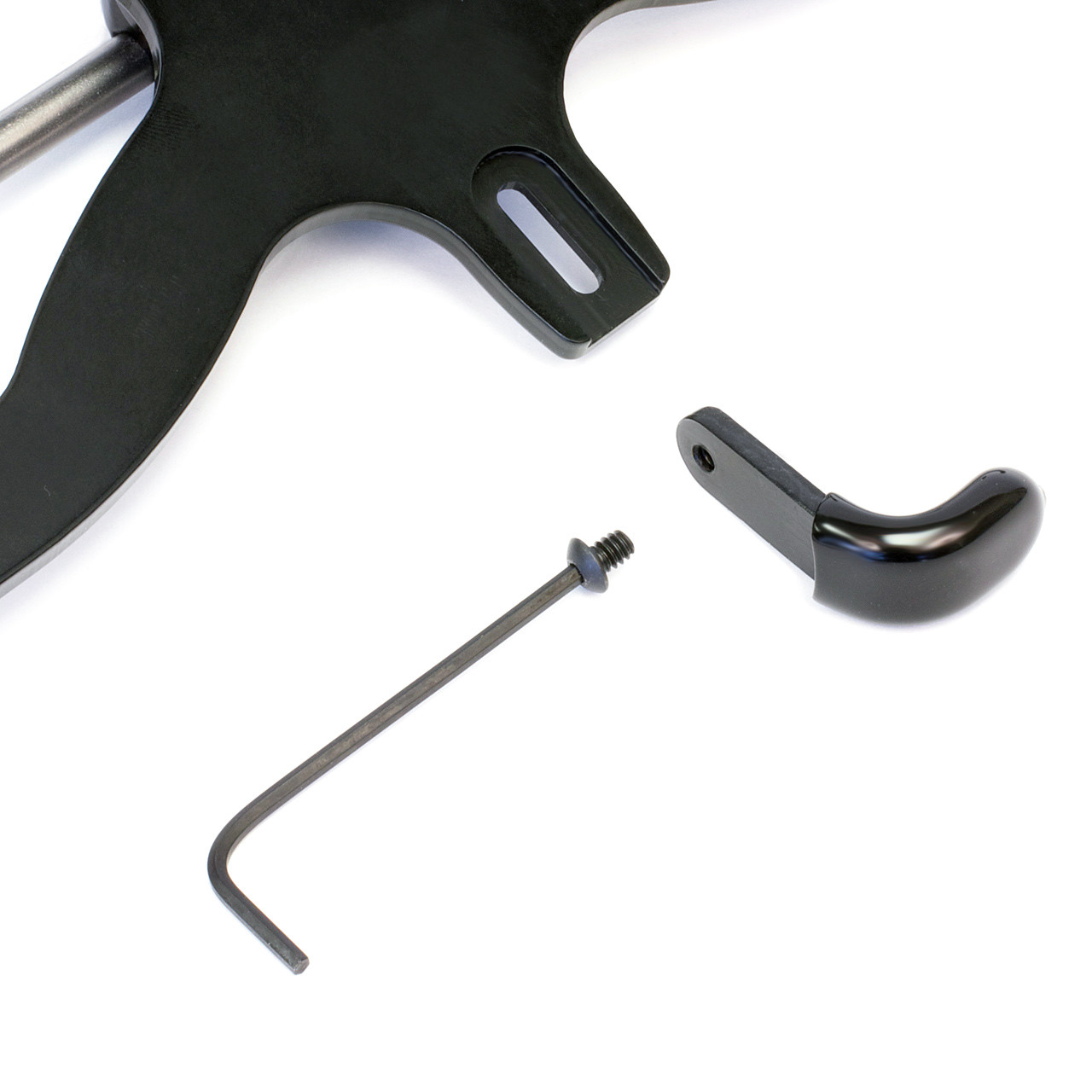 The premium quality, adjustability and portability of this iPad mini tripod mount will be noticed the moment you place it on your tripod. We guarantee you will use, and miss it when you don't have it around.
Proudly made in Connecticut, USA from solid stainless steel, polymer and heat resistant polymer materials.
FEATURES:
6 slide adjusting fingers (vinyl protected for the iPad mini) - Available spare part kit
5/8" solid stainless steel ball for fluid pivoting action (Friction screw adjustable)

Roll: ∞ infinite (when device is parallel to support shaft there is an index for the rotation of portrait and landscape)
Yaw: ∞ infinite (left to right)
Pitch: >180˚ (front to back)

1/4" solid stainless shaft for 6" elevation and stability
Artistic shape and design
Portable
Full control, port and camera access
Square credit card reader compatible
PayPal credit card reader compatible (Limited, reader must turned away from holder finger)
3 stabilization non-skid black feet (Polyurethane 3M) available as spare part
Color: Black
HOLDER COMPATIBILITY:
Designed for iPad mini 3rd, 2nd, and 1st generations with or without a case, skin, bumper or protective cover. Will not work with full size iPad or iPad Air - see our other recommended products

Width: 5.0"~6.0"
Height: 7.6"~8.6"
Depth: Slide finger is .6" tall
OVERALL SPECIFICATIONS:
Weight: 0.29 Pound

Height: 9.85"

Width: 6.5"

Depth: 1.8"

Made in the USA
ITEMS INCLUDED:
Stainless Steel Ball Shaft
IPM10 Adjustable Holder Assembly
T-Wrench 5/64" (torque limiting for initial finger setup)
3/32" Allen Wrench

(for pivot tension)
OPTIONAL ACCESSORIES:
Planet Base, 1/4" thick (PL775)(Coming soon)
INSTRUCTIONS:
Click here to download (Coming soon)
WHAT OTHERS ARE SAYING:
iLounge Recommended "There's no question that it has some serious advantages over rivals, such as considerable adjustability and case compatibility, plus the ability to be used with...".
Adrianne "This looks so safe, I always kind of doubt the other products designed to place a tablet like this, but this specific one seems to really hold the ipad in a steady manner, I really like it."
Lamarr Wilson "FABULOUS iPad mini Stand....Video"
Brian Byrd's Photo Blog "it took only a couple of days of using it before I was wondering how I had ever lived without it!"

Tripod, iPad Mini, case, Devil Head & Ear Buds not included
PED4™ is a trademark of Thought Out Company