This product has been replaced with our new PED4-Mount-CH50
This product has been replaced with our new PED4-Mount-CH50
PED3-Auto Universal Mounting Steel Rotating Stand - Car Mount



iPhone, iPod touch - Case, Skin or Bumper-ed
The rotating PED3-Auto car mount holder includes all of our best features and a few more, a truly versatile installation for iPhone and iPod touch that lets you decide.
Great for turn by turn GPS
With the PED3-Auto car mount holder we do not believe that it is just for the car. The AdPad-VHB, our foremost recommended installation method, is a double sided adhesive pad having extreme bonding characteristics on many materials as well as the slick surface plastics found with most car panels. With the included mounting options you will have endless locations that will let you decide where to install.
FEATURES:
All USA made solid steel and molded construction
Rotate infinitely 360 degrees
5" by 5/16" diameter flexible neck for many positions
Gripping protective vinyl fingers allow full use of ports/controls
Baked on hard coating
Base mount with concealed fasteners and 0°, 45°, or 90° mounting for a clean look. Base dimensions are 2.8" diameter, 2.3" across the flats

AdPad-VHB (included)
Screw mount
Suction cup mount (4) (included)

Three holder options:


iPhone 4S, 4, 3GS, 3G, Original (PH)

iPod Touch 4g, 3g, 2g, 1g

(IT)

Case, skin or bumper-ed iPhone or iPod touch

(FORM)
HOLDER
THREE TYPES:
We have three holders for you to select from, a bare iPhone, a bare iPod touch, or the FORM holder for any case, skin, or bumper-ed iPhone or iPod touch.
FIT:
The type of fit your holder has is up to you, some people like a tight secure fit and some people like a loose-drop in fit. Your initial use and setup with any holder you select may require a little adjusting to match your desired fit. If you select the larger FORM holder for instance, much more setup adjustment is allowed with it's design. The FORM holder design accommodates all cases, skins and bumpers including the Otterbox Defender, and Mophie Juice Pack Air case.
INTERCHANGEABLE:
All of these holders are interchangeable with one another and can be used with our other PED3 and NAJA-King products. These holders are also available separately for you to make up any combination you would like.

iPhone or iPod touch - FORM holder
(Only works with a case, skin or bumper)*

iPhone holder-bare
(Only works WITHOUT a case, skin or bumper)

iPod touch holder-bare
(Only works WITHOUT a case, skin or bumper)
SETUP OVERVIEW:
Your holder will need to be setup for your custom fit. The holder is made of a high grade steel and protective finish that can tolerate the forming it takes to make your custom fit.
INSTRUCTIONS:
By hand you simply form the holder fingers for a loose or tighter fit as shown in the picture. You may need to do this a few times to achieve your personal fit.

THREE INCLUDED MOUNTING OPTIONS:
AdPad -VHB ™ is an aggressive double sided adhesive pad developed to obtain quick and easy installations onto many materials, including todays low energy surfaces like the slick surfaces (polypropylene, polyethylene, silicone and teflon based, etc) found in car panels and dashboards.

AdPad-VHB continues to work on traditional materials like glass, metal, wood, painted surfaces etc.
SUCTION CUPS
SCREW
OPTIONS: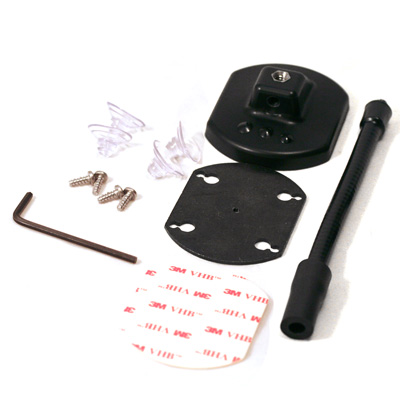 Download full instruction sheet
*Not recommended for a bare iPhone or iPod touch